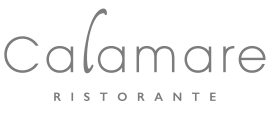 "Tomayto, tomahto". You can choose where to put the emphasis: we at
Calamare
, the beach restaurant of the Fantini Club in Cervia, put it on the kitchen, which reinterprets the
Mediterranean seafood cuisine
at the highest level, offering
local products
on the menu
, prepared by our chef and his team of professionals.
DOWNLOAD OUR MENU
Daily Menu
Wines Menu
Beers Menu

Cocktails List
Dishes that reinterpret the
local seafood cuisine
with an eye on the international cuisine and a clear
focus on well-being
, in line with our philosophy of HQ (High Quality Lifestyle), which the Fantini Club has been promoting for some time and which is also expressed in the
vegetarian proposals
on the menu every day.
There are
three different settings
to choose from, indoors, under cover or directly on the beach. Here you can eat barefoot in the sand, among olive trees, palm trees and hammocks, for an experience that involves all the senses.
Calamare is the perfect choice for
informal lunches, romantic dinners or evenings with friends by the sea
, but also a perfect place for
business lunches and dinners
and a charming venue for
weddings
and
ceremonies
.